IMI International Mediation Institute
approved as IMI QAP
The "European Mediation Academy" (
em
e
ac
) was approved as an IMI Qualifying Assessment Program by the International Mediators Institute (IMI) in January 2019. IMI is a non-profit initiative driving transparency and standards, worldwide.
The way to become an IMI certified mediator
1. Mediator Experience:
20 mediation cases or 200 hours mediation experience
2. Mediation Knowledge:
A. The practical assessment will be conducted in one roleplay followed by a Mediator Knowledge Scoring Sheet.
B. After the evaluation of the written test knowledge will be assessed by an oral exam
3. Mediator Skills:
The practical assessment is based on advanced and complex roleplay cases designed by emeac to test a wide range of advanced knowledge, experience and skills of a mediator.
Roleplay assessment as such is categorised into groups: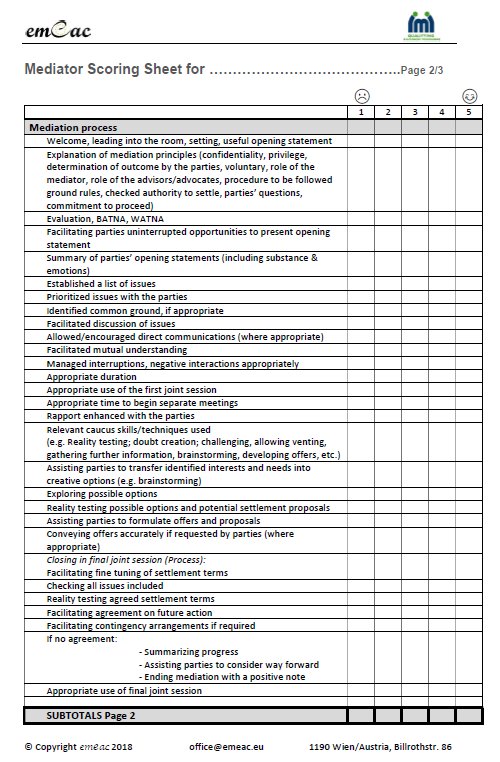 the ability to create relationships as mediator
ability to facilitate the process and
ability to support content.
The assessors have to use a detailed checklist called "Mediator Scoring Sheet for Knowledge"
IMI Certified Mediators
Certified Mediators are highly-experienced mediators who meet international standards.
IMI International Mediation Institute
IMI is the only organization in the world to transcend local jurisdictions to develop global, professional standards for experienced mediators, advocates and others involved in collaborative dispute resolution and negotiation processes. IMI also convenes stakeholders, promotes understanding and disseminates skills, all in a non-service provider capacity. IMI competes with no one because it provides no services.